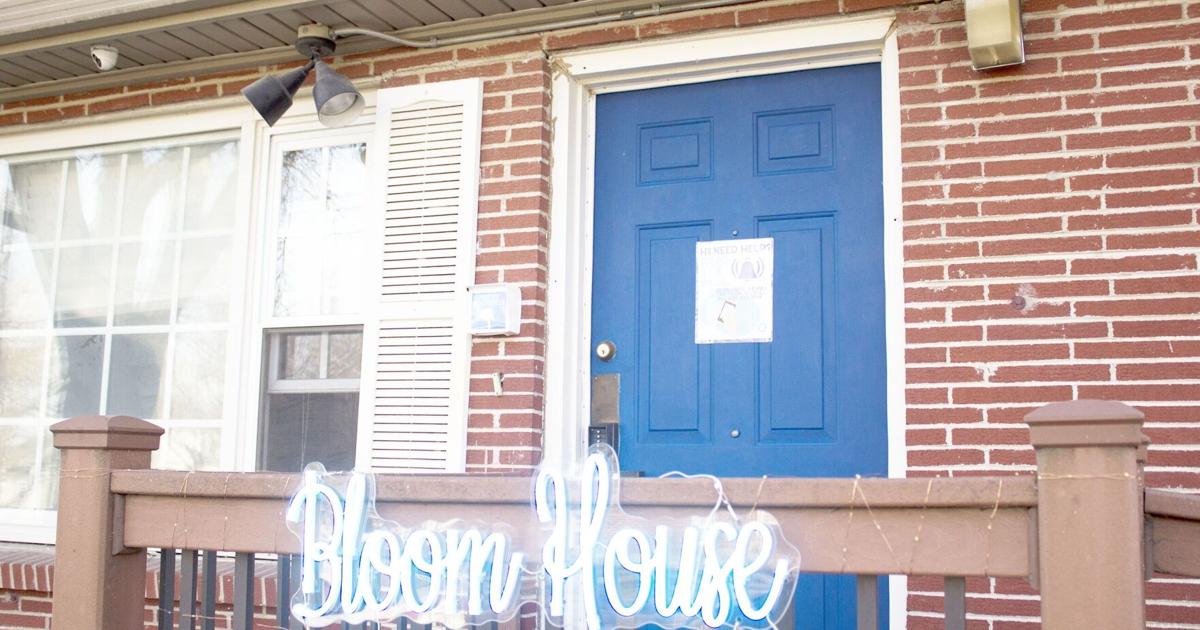 'A Sweet Place to Land': Bloom House Youth Services Opens | News
The new Bloom House Shelter and Drop-In Center, located at 301 W. 11th Ave., is an "inclusive shelter," according to their flyer, and offers mental health services, case management, food, clothing and hygiene items, as well as life skills classes and recreational activities, to vulnerable, at-risk and homeless youth under 18 years of age.
Youth in crisis or in need of the services offered by Bloom House Youth Services (BHYS) can visit them at any time of the day or night or call them at 620-208-1199.
"If you just want to go somewhere quiet and calm, I want that to be where we are," said Emily Yell, project manager for BYHS.
The Bloom House's goal is big, but important, according to Clara Corn, executive director of BHYS and counselor training instructor at Emporia State.
"Ultimately, and ambitiously, we don't want homeless or runaway youth in the area to be harmed, abused (or) exploited on the streets," Corn said. "And if they know we're here and they can come here, then they won't fall prey."
When children are evicted or run away from home, they are worried, sad, stressed and scared, according to Corn. This makes them more vulnerable to damage.
"1 in 3 teens on the street will be pressured to trade sex for so-called security within 48 hours of leaving home," states a National Sexual Violence Resource Center statistic quoted on the BHYS website (bloomhouseks .org).
"Instead of going somewhere else which could be dangerous, we want them to know they can come here," Corn said. "So a soft place to land."
The idea for Bloom House began with an offhand comment from Yell during a rant with Corn about the lack of resources available to homeless youth in Emporia.
Corn worked at Plumb Place in Emporia, a homeless shelter for adult women, and had struggled to find resources for someone who came to them for help but was under 18.
A year after Yell made the comment that Corn should create its own resources, they began working to do just that.
In 2019, BHYS received its 501(c)(3) or non-profit designation.
The group operated out of Corn's office at ESU until the former SOS Domestic Violence Shelter went up for sale.
Anyone in need of SOS services can find the new service center at 1420 C of E Drive in Emporia or call them at 800-825-1295.
Bloom House opened on January 1 and held its ribbon cutting on January 25.
The building has seven bedrooms and a fully functional kitchen on each of the three floors. The rooms have been given a makeover through their Adopt a Room program. All rooms have been adopted and are in the process of being "refreshed", according to Corn.
Bloom House can currently house 16 and 17 year olds and are working on a DCF application so they can also house 14 and 15 year olds. However, they won't turn away anyone who needs help, no matter the time of day, according to Corn.
BHYS will also provide day services to all young people in the community, such as internet for school work and applying for jobs; recreational activities; life skills education such as cooking, language, financial literacy and internet safety courses; and a "quiet space". There are also two cats, Steve Rogers and Stevie Nicks, who live full time at Bloom House.
"It can't just be survival," Corn said. "You must prosper."
Offering services and resources to all youth in the community is also an outreach effort, according to Corn.
"Maybe someone doesn't need our services right now," Corn said. "But they could in the future and they will remember that we are here."
BHYS seeks to partner with all community and state organizations that work with youth. They also work in partnership with ESU organizations such as Emporia at the Table (EAT) and the Basic Needs Coalition.
"Connecting to resources in the area is going to be really crucial," Corn said. "Because people often don't know what resources are available to them."
BHYS is an inclusive space that welcomes LGBTQ youth. Staff and interns receive training on working with youth in crisis, as well as LGBTQ youth from the Training and Technical Assistance Center for Runaway and Homeless Youth (RHYTTAC).
"We need a place where you can show up and be accepted as you walk through that door," said Carolee Conway, the art therapist at Bloom House. "You don't have to change, you don't have to look different, you don't have to be anything other than who you are and that's perfectly normal and you're safe."
If interested, graduate and undergraduate students can intern at Bloom House. However, undergraduates must be at least an incoming senior, but can be in any major. BHYS will also tailor responsibilities to the intern's degree, according to Corn.
Interns can take day or night shifts and basic responsibilities include arranging donations, preparing rooms, answering phones, starting admissions and preparing food for young people who show up in crisis situation.
Anyone in the community can volunteer to help sort donations, help with fundraisers, decorate the bulletin board and post flyers around town. Student organizations can also help out on a voluntary basis.
Magda Escalante, a graduate student in art therapy and clinical counseling, began her internship at Bloom House just a few weeks ago. She heard about the opportunity from Rochelle Rowley, an associate professor of social sciences, sociology and criminology and a board member of BHYS.
"There are so many ways I can help (young people)," Escalante said.
Not only will she help provide art and talking therapy services, but Escalante can also give Spanish lessons or teach kids how to make tamales.
"I think it's just amazing that they have this place they can come to and this place they can stay if they really need to," Escalante said.