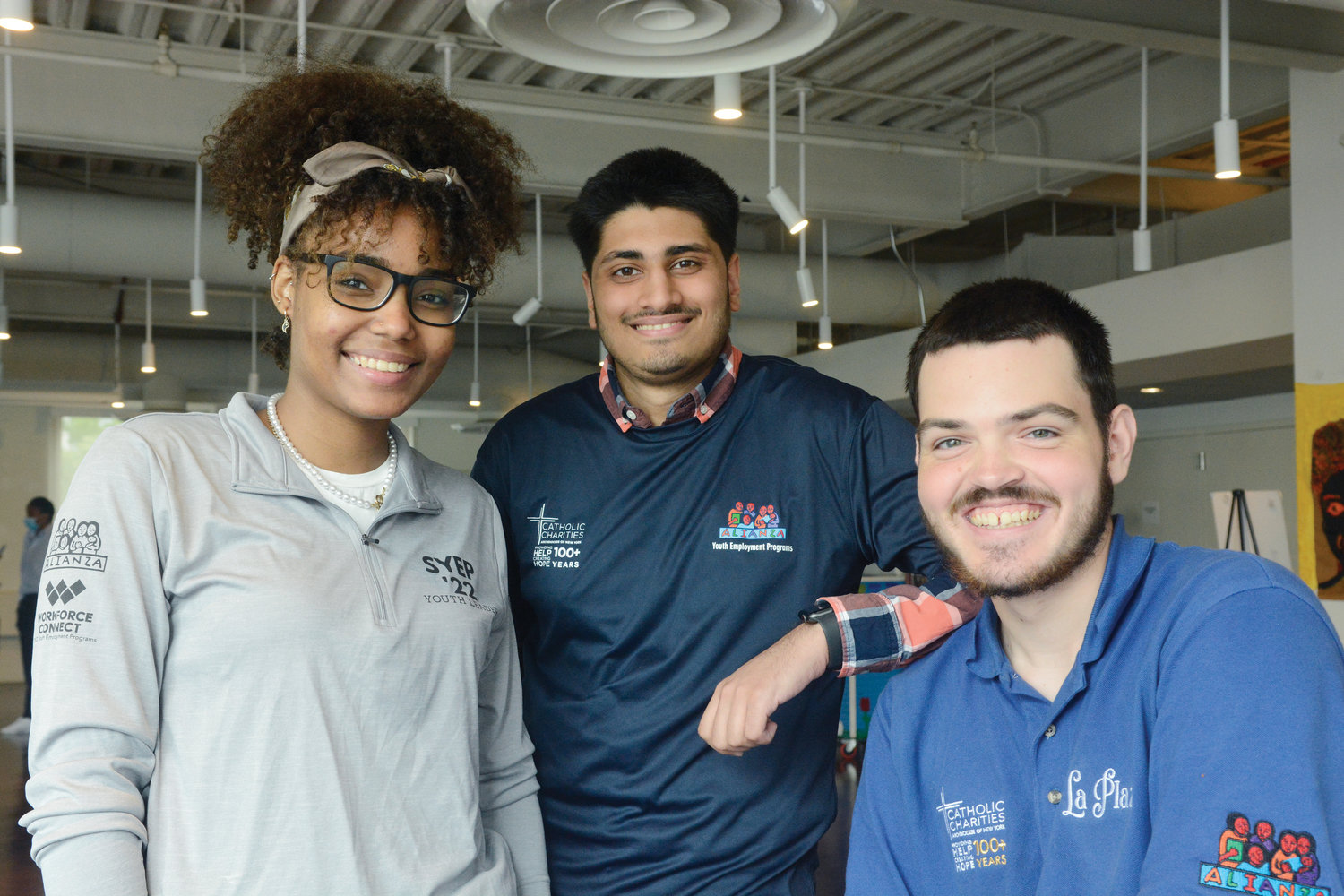 Alianza Center programs provide youth services and work experience
By ARMANDO MACHADO
At the Alianza Dominicana Cultural Center in Washington Heights, Muntafa Rahman and James Cadden shared their thoughts on serving the community through the center's youth programs, service projects and internships.
"I'm just very grateful for this opportunity. Our goal is to instill lasting values ​​in young people through employment," Rahman, 20, told Catholic New York in a July 28 interview. "I am a trainee at Alianza's youth employment office; we continuously monitor young people through guidance, counselling, mentoring and placement… All of this is very important; we want all our young people to engage, learn and develop skills. In September, Rahman will begin his third year at Manhattan College in the Bronx, where he is majoring in computer engineering.
Cadden, 18, said: "This place loves to bring the community together, just bringing the love here and bringing the creativity here… You really feel for the kids who are struggling or really need a job. They come to Catholic Charities to look for him. Cadden has done a number of service projects and is currently interning as an Alianza Safety Instructor, ensuring children are safe at the Summer Recreation Program site and after school La Plaza nearby .
Alianza, an agency of Catholic Charities of New York, provides youth services and assistance to communities in need in the New York area. Efforts include internships that have been part of New York City's Work Learn Grow (WLG) employment program. Youth employment programs prepare young people – ages 14 to 24 – for the job market with career and college readiness workshops and work experience.
Alianza's Summer Youth Employment Program (SYEP) began in 1984 to give young people substantial work experience and provide additional income for their families. In 2013, Alianza became a member of the Archdiocesan Catholic Charities.
The Work Learn Grow model, an extension of SYEP, creates year-round opportunities for youth in disadvantaged communities to build work-readiness skills, explore careers, and receive school counseling. Last fall, dozens of participants engaged in college-level classes virtually after school through CUNY College Now.
The Alianza Dominicana Cultural Center is a multidisciplinary arts center located in the Washington Heights section of Manhattan that showcases contemporary and classical Dominican and Latin American art, dance, and music. The organizers said that intergenerational learning, transnational and intercultural activities are the philosophical benchmark of the center.
Courses and workshops in computers, artistic creation, popular and traditional dances and Afro-Latin percussion, as well as literary lectures, music and theatrical performances are given free of charge. The cultural center houses a state-of-the-art computer lab funded by Charter Communications.
Since 2020, Monique Myers, 28, has run the youth employment program at Alianza, where she got her start at 19 as an intern. "Our young people need programs like this to stay engaged in their communities, but also to learn those skills, life-changing skills…Each year, we have over 2,000 participants in our programs" , she said.
Michael Sanchez, 24, a senior job developer, told CNY he is looking for internship opportunities for young people at companies, agencies and educational institutions, including Columbia University. "I joined the staff in 2016; before that I was actually one of the attendees, starting at age 12 going to one of the summer camps," said Sanchez, who noted that Alianza offered "a lot of support to prepare for the real world".
Heymi Division Adames, 18, is a youth program assistant who hopes to earn a degree in psychology. She has participated in the dance presentations of the Alianza Cultural Center and has given dance lessons to children, and she has experience in modeling. "I'm very grateful for the summer programs here," she said. "They opened doors for me; the administrators offer a lot of support.
Jaiden Figueroa, 15, and Nicole Ventura, 19, were among young people making colorful masks for the August 14 National Dominican Day Parade on Sixth Avenue in Manhattan. Both expressed their gratitude for the youth service programs offered by Alianza, Ms. Ventura, born in the Dominican Republic, noting: "It's a way for me to connect with my culture, my roots, helping to make these masks; and I appreciate creativity.