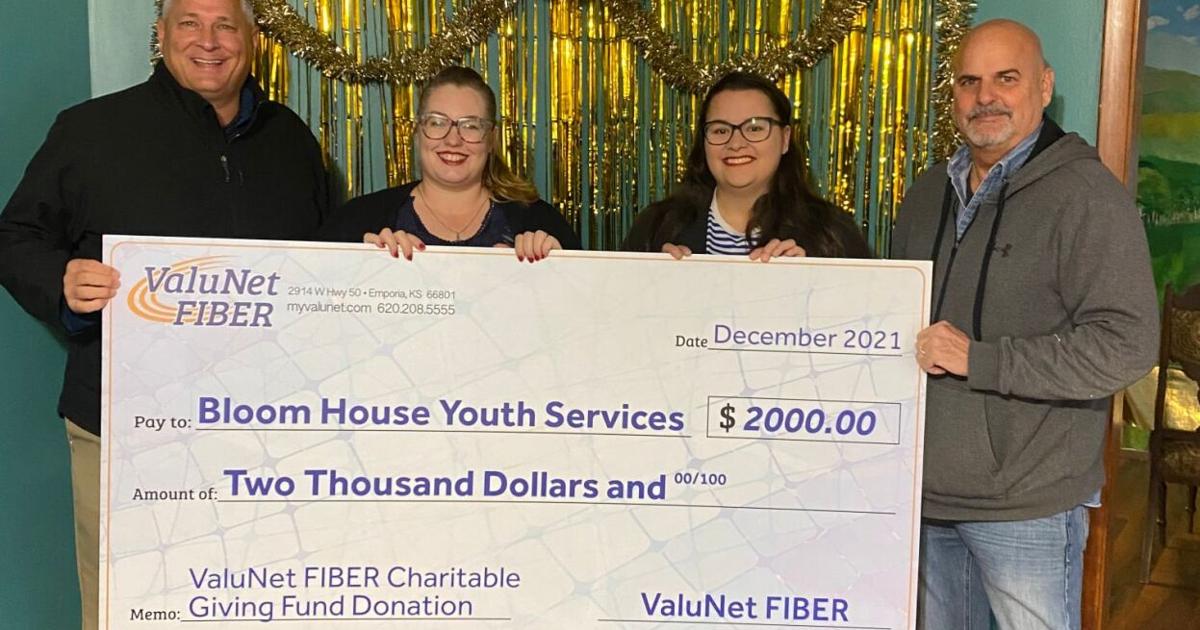 Bloom House Youth Services Receives $2,000 Grant | To free
Bloom House Youth Services, a nonprofit serving at-risk and homeless youth, recently received a $2,000 grant through ValuNet's Charitable Giving Fund.
The grant will help equip the youth shelter's resource room with the necessary internet access.
"We are delighted that Emporia's only shelter in the Base Center program opened in January and we can provide much needed shelter and services to homeless and runaway youth under the age of 18. With this grant from ValuNet Fiber, we are able to equip our resource room to further assist in serving at-risk and homeless youth," said Clara Corn, President of Bloom House Youth Services. "This new resource room will be a space where young people who have dropped out of school can take online courses, learn how to create a CV and apply for jobs online, as well as learn typing and other skills. "
The Charitable Giving Fund awards more than $200,000 in grants each year to local 501(c)(3) nonprofit organizations served by ValuNet Fiber and the other Cable One family of brands (Sparklight®, Fidelity Communications and Hargray ), and concentrates its support in the following priority areas:
Education and digital literacy
Food insecurity
Communautary development
Nonprofit organizations will have the opportunity to apply for a grant during the open application periods each spring and fall. Applications for the Spring 2022 grants will be open April 1-30.
"Through our philanthropic initiatives and the support of our local non-profit organizations, we help build strong and vibrant communities, improve quality of life and make a positive difference in the cities and towns where we live and work. said Julie Laulis, Cable A President and CEO.
The Charitable Giving Fund is an extension of the company's existing corporate social responsibility efforts, which include:
Chromebooks for Kids, an initiative where the company donates Chromebooks to Title I schools across its footprint. To date, the company has donated more than 2,000 Chromebooks to help bridge the digital divide in underfunded schools.
Support national organizations dedicated to promoting racial equality, justice, education and diversity, including the Equal Justice Initiative, the Emma Bowen Foundation and the National Diversity Council.
Supporting the mission of Special Olympics Arizona, which provides year-round athletic training and competition in a variety of Olympic-style sports, as well as health, arts, leadership, and advocacy programs for children and adults with intellectual disabilities.
Planting trees through the Arbor Day Foundation on behalf of customers moving to paperless billing. To date, the company has planted 120,000 trees in its markets and state forests.
Support Keep America Beautiful's mission to clean up and beautify communities across the United States
Through this program, the company has awarded more than $100,000 in grants over the winter of 2021 to 32 nonprofit organizations in its 24 states.
For more information on the ValuNet Benevolent Fund, visit www.myvalunet.com/charitablegiving.