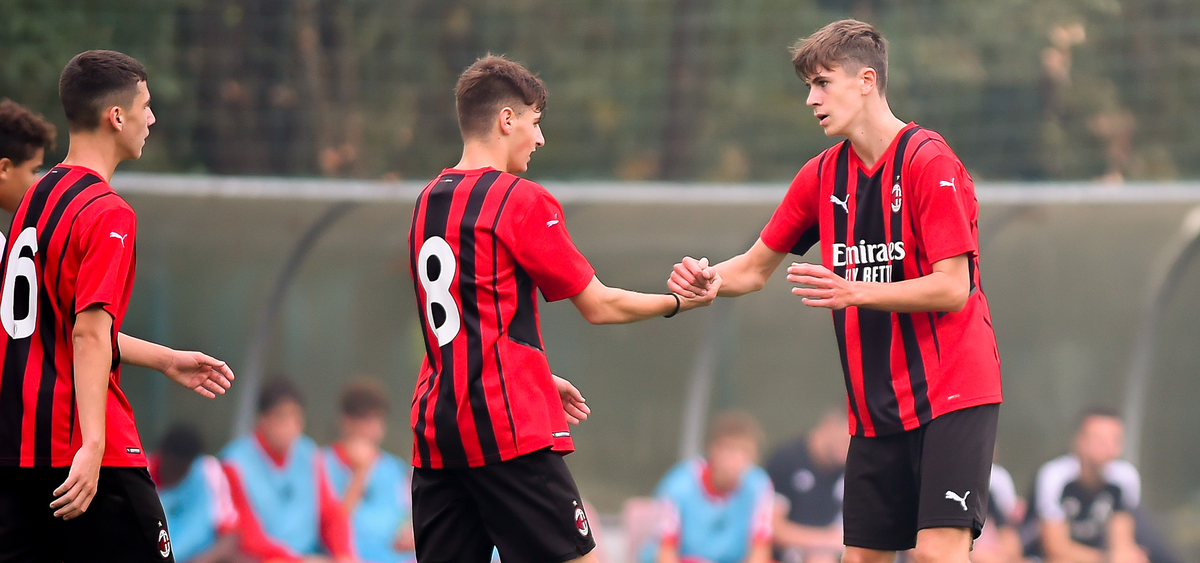 Calendar of the Youth Sector Rossonero from November 13 to 14, 2021
It was a week rich in victories for the Rossoneri youth teams; some important victories bring our teams close to the top of their respective divisions. This is the case for the Primavera woman, who are the only leaders after an away victory over Cittadella with a brace from Avallone. Our men's (4-2 away to SPAL) and women's (big away victory to Azalee Gallarate) teams U17 the teams are also the best and the men U16 lead with Atalanta after a 4-1 win over Udinese.
This victory over the Bianconeri was taken over by the U15, who lost 3-0 to Vismara. It's also gone for four our male U14, U13, U12 and U10, and female U15 and U13. It was also a good Saturday for the Women U12, who reached the finals of the Danone Cup with victories over Sampdoria and Cit Turin LDE.
THE WEEKEND RESULTS:
SATURDAY, NOVEMBER 13
LESS THAN 10 : Matchday 5, Aldini 2-3 AC Milan (2 Colombo, Gagliardi)
Less than 12 years : Matchday 5, Città di Segrate 0-9 AC Milan (2 Seye, 2 Colombo, Esposti, Sorrentino, Marchello, Ferrario, Borsa)
WOMEN UNDER 13: Matchday 5, Barona Sporting (boys) 2-2 AC Milan (Parolo, Prandi)
UNDER 13: Matchday 7, AC Milan 3-1 Lecco (Pisati, Angelicchio, Avogadro)
LESS THAN 9: Matchday 5, AC Milan 1-4 Acc. Inter (Bernasconi)
WOMEN UNDER 12: Danone Cup Interregional stadium, AC Milan 6-2 Sampdoria (Tomaselli x2, Franco, Palopoli, Stendardi, Strecapede)
WOMEN UNDER 12: Danone Cup Interregional stadium, AC Milan 7-1 Cit. Turin LDE 7-1 (Galluzzi x2, Stendardi x2, Franco, Palopoli, Tomaselli)
SUNDAY, NOVEMBER 14
WOMEN UNDER 17: Matchday 7, Azalee Gallarate 0-10 AC Milan (20 'Cappa A; 44' and 47 'Cappa V .; 54' Polillo; 58 ', 66' and 78 'Sperduto; 68' De Marco; 73 'Grimaldi; 75' Orsenigo)
LESS THAN 15: Matchday 6, AC Milan 3-0 Udinese (25 'Perin, 65' Liberali, 80 'Melchionda)
WOMEN UNDER 11: Matchday 5, AC Milan 3-4 Vittoria MMVII (Elshamy x2, Parrella)
WOMEN UNDER 15: Matchday 7, AC Milan 15-0 Giana Erminio (Sogni x4, Tomaselli x3, Palopoli x2, Stendardi x2, Lauzi, Lupatini, Palumbo, Zapelli)
UNDER 17: Matchday 9, SPAL 2-4 AC Milan (6 'Fontana; 60' and 90 'Perrucci; 32' Longhi)
UNDER 16: Matchday 6, AC Milan 4-1 Udinese (3 'Sia, 36' Perina, 46 'Martinazzi, 81' Di Siena)
PRIMAVERA WOMEN: Matchday 6, Cittadella 1-2 AC Milan (26 'and 50' Avallone)
UNDER 14 YEARS OF AGE: Matchday 7, Pro Sesto 0-1 AC Milan (57 'Lupo)
The PUMA AC Milan jerseys for the 2021/22 season are available: buy them now!