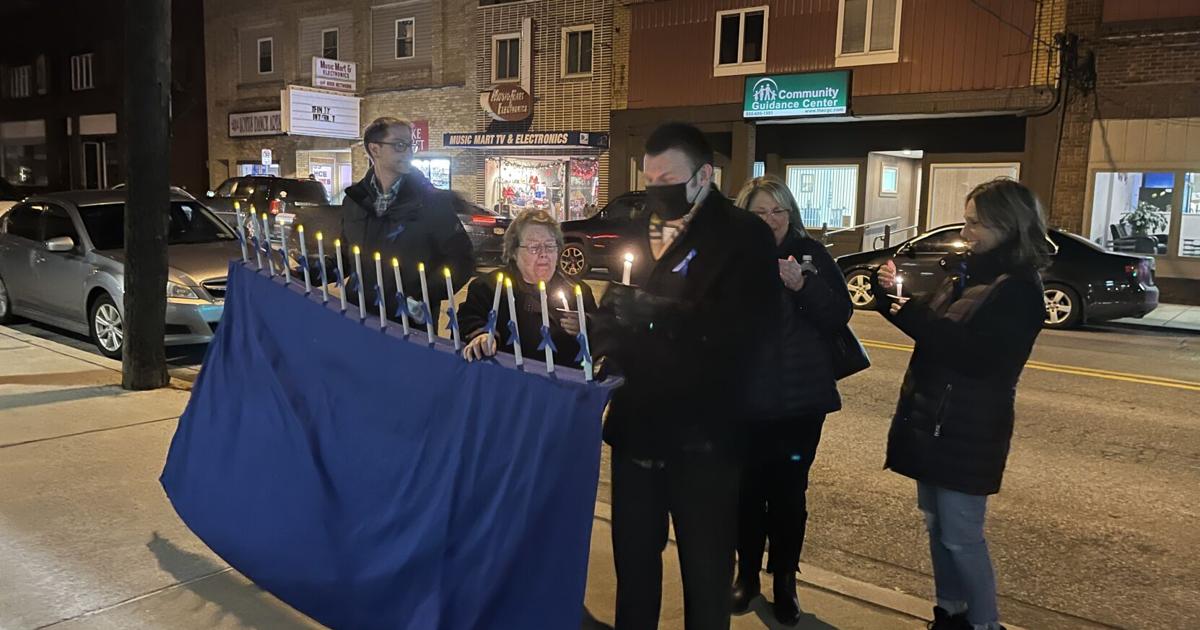 Cambria County Children and Youth Services holds vigil at Commissioners meeting | News
NORTHERN CAMBRIA, Pa. — Sixteen candles represented the 16 vacancies at Cambria County Children and Youth Services during a vigil at the Cambria County Commissioners meeting at the North Cambria Library on Wednesday.
Current and former agency staff attended the meeting to continue to raise concerns with commissioners about understaffing and low salaries.
Three new Children and Youth Services staff were approved by commissioners, but Lynn Popovich, a supervisor, said the three were the only three out of five applicants to show up for interviews. She added that hiring still won't be enough.
"I know you will approve of these much-needed hires, but we need more than a dozen additional workers over the next month, as excited as we are about these new hires," she said. "History has shown that once we spend the resources to train them, we will struggle to get them. After gaining experience with our agency, many move on to more competitive salaries.
Popovich noted that she saw some commissioners at the grand opening of a company that offers $16 to $19 an hour without a degree, as Children and Youth Services employees begin to pay. $14.83.
"$14.83, much of which goes towards the degree required to do the job," she said.
Popovich said Children and Youth Services continued to do their job despite the lack of response from commissioners after the meeting they attended in January.
"Your absence and your silence sent a loud and chilling silence to our staff that our cries for help went unheard," she said.
She added that going forward, it will be important to not only add new staff, but also maintain current staff who can continue to help county families.
"It's imperative that we retain our current staff, not just for the agency but for the children and families we serve," Popovich said.
"Their skills and expertise are invaluable when it comes to working with the public and training the workforce."
Brittney Coffman was one of the Child and Youth Services workers lost because she couldn't make ends meet. After more than five years, Coffman said she quit a job she loved because it was no longer something she could do financially.
"I loved my job. However, as a single adult, no matter how hard I worked, I couldn't make ends meet. I have no idea how people with kids do on that salary," she said. "While I was willing to put in long hours and get into potentially dangerous situations to protect children, I found I was no longer willing to sacrifice my own future to do so."
Coffman said when she left, there were only seven to nine vacancies at any one time.
She said she was stunned when she found out there were 16 vacancies.
"Carrying so much responsibility without support is not possible. I'm sure they'll get away with it, but at what cost? said Coffman.
"How much longer can they sacrifice themselves personally, financially and emotionally to protect the children of this community. If they can't, who will?
Commissioner William "BJ" Smith said the commissioners would continue their efforts to advertise the positions to be added to the three hires.
Chairman-Commissioner Thomas Chernisky added that the county is committed to "full press" with its publicity efforts.
Commissioner Scott Hunt said they were meeting with administration and human resources to find a solution.
"We're working on it," Smith said.
After the meeting, Smith notably took an extended amount of time to speak with the employees during their wake.
Katie Smolen is a reporter for the Tribune-Democrat. Follow her on Twitter @KSmolen1230.