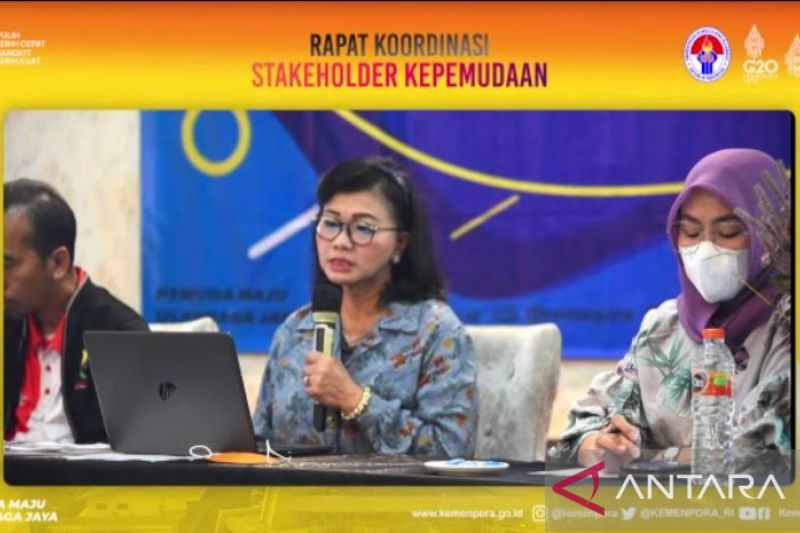 Government strengthens cross-sector coordination of youth services
Jakarta (ANTARA) – The government is continuously strengthening cross-sectoral coordination of youth services to create quality and competitive human resources.
"Strategic intersectoral coordination continues to be strengthened, in particular the synergy between central and regional (governments)", Deputy for the coordination of the improvement of the quality of children, women and young people at the Ministry of Development Coordination human and culture, Femmy Eka Kartika Putri, said.
Youth development involves various ministries and institutions, so intensive synergy and coordination are needed, she observed at a coordination meeting of youth actors, accessible online from here on Thursday.
"This is in line with Presidential Regulation Number 43 of 2022 regarding the strategic coordination of cross-sector youth services," she said.
Youth-related programs are one of the focuses of Indonesia's development efforts for 2020-2024, which aim to create an advanced, skilled, productive and competitive next generation, she added.
"If we look at the data from the National Socio-Economic Survey (Susenas) in 2021, there are 64.92 million people who belong to the youth category. This makes the youth program one of the axes of development of Indonesia in 2020-2024," she explained.
Presidential Regulation Number 43 of 2022 regarding the strategic coordination of cross-sectoral youth services states that the coordination aims to enhance the effectiveness of youth services, the synchronization and harmonization of youth programs and activities, as well as the review of the implementation of services for young people.
The government has continued to optimize its youth development strategy by building institutional capacity to deliver services to youth, Putri added.
The government is also continuously strengthening its efforts to prevent risky behavior among young people, including the prevention of violence and bullying, she said.
"Furthermore, it enhances the active social and political participation of young people, including the role of young people in international forums, youth exchanges and encourages the active role of young people in environmental conservation efforts", a- she added.
Related News: Hope ASEAN Youth Help Achieve Religious Moderation: Governor
Related News: West Java governor asks mayors to provide spaces for young people
Related news: The involvement of young people in the essential energy transition: official