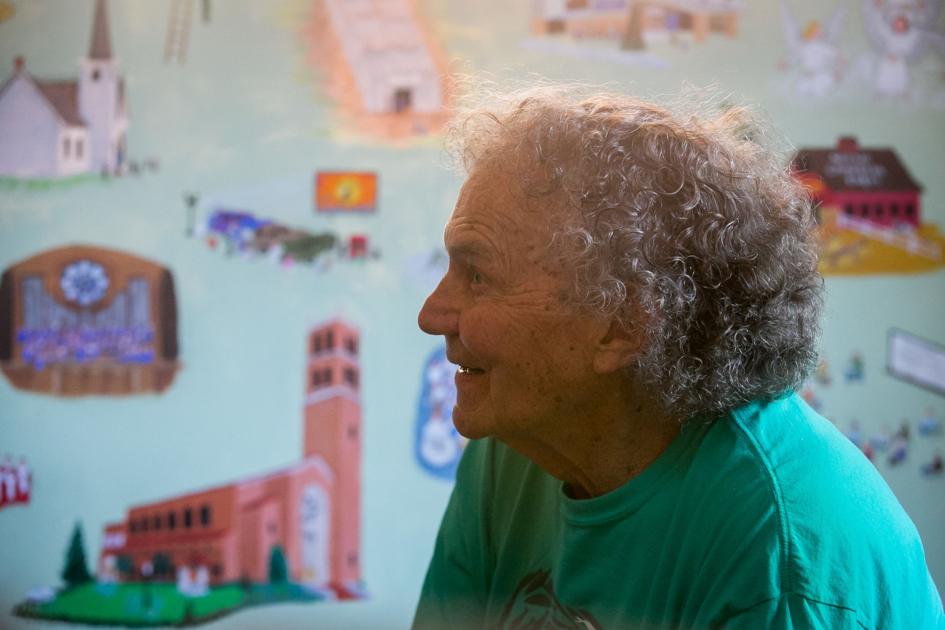 People's Church Youth Minister, Musician and Artist Says He's Back in Yakima for Good | Local
Sonny Salsbury, well known in Yakima as a singer and musician, minister of youth and artist, first moved to the city in 1969.
The California native and his wife, Linda, stayed on for eight years as the youth director for First Presbyterian Church, now Grace of Christ Presbyterian Church. In 1977, they moved to La Jolla, California, and lived there for five years. Then he and Linda took a year-and-a-half road trip across the country to write, act and sell. his music.
Many churches were using his music at the time, he said. "And quite a few still are."
After that, they settled in Pasadena for a few years before returning to Yakima County in 1988 to become directors of Camp Ghormley. They lived at the camp until 1997 when they returned to Yakima Town and Sonny served as the music minister at the West Valley Church for two years. In 1999, Sonny began his traveling chanting and chanting ministry in religious camps and began taking small groups of people on various outdoor trips. He is an avid hiker and has been running for years.
In 2008 they moved to Pismo Beach, then returned to Yakima about 2.5 years ago.
Obviously, Yakima has a hold on the couple, who have been married for 62 years, and they plan to stay this time around. They happily settled into their circa 1904 home in the historic Chestnut-Barge district and made it their own, with a painting studio for Sonny and a place for Linda to create his shell assemblies.
The sale of the house years ago failed, so they rented it out. "Linda thinks God saved this house for her because she loves it so much," Sonny said.
He is grateful that music is still a part of his life and happy to say that he no longer has cancer after bouts of illness a few years ago. He and Linda, who have two sons, are happy to have returned to Yakima.
"We are grateful to be back here," Sonny said.
"Spend your life helping children"
Both of his paintings are so new that Sonny has yet to share them with the public or the church. Rosanne Bacon, a Grace of Christ member and longtime friend, whose family commissioned some of Sonny's paintings, is keeping the works until July 11, when the church painting will be unveiled at the service from 9 o'clock.
A meeting will be held after the service, outside in the Yakima Avenue side yard, Bacon said. The church is located at 9 S. Eighth Ave., and everyone is welcome, she added.
"It's a dream come true. When we updated our church, we took a lot of our photos," Bacon said. She and other members of the church's mission ministry committee wanted a visual summary of an oral history of the church, so Sonny included many scenes that members will recognize. It took him about 200 hours.
"It's a little representation of everything," Bacon said.
Born in Los Angeles in 1938, Sonny grew up in Oakland and Pasadena. As a young boy, Sonny was chosen to participate in "The Art Linkletter Show". Art asked, "What do you want to be when you grow up?"
"An Oakland Oaks player or a missionary in Africa. I could collect snakes and tell people about Jesus, "he told Art. He was fascinated by snakes and other reptiles.
After graduating from high school in Pasadena, Sonny attended Pasadena College (now Point Loma Nazarene University in San Diego). He played basketball and sang in a quartet in his first grade. He wasn't absolutely sure what he wanted to do when he entered college, but the inspiration came soon enough.
"This summer of my freshman year, I felt like God said to me, 'Sonny, I want you to spend your life helping the kids,'" Sonny recalls. "At that time, there was not a single youth ministry class.
So he obtained a degree in education in 1960 and joined the staff of the Youth for Christ organization on campus, of which his brother Dick was president. He and Linda got married and moved to Yakima so he could take the post of youth director in what was then the First Presbyterian Church.
"When I was here (the first time), that's when my music career really took off," Sonny said.
Many fondly remember the days when Sonny led the Gospel Press, a youth choir at the First Presbyterian. The group even traveled to California to record a record, among several that Sonny has made with his music. "We had a great time with the Gospel Press," he said.
He and his four younger siblings come from a musical family. Their father sang with Fred Waring and his Pennsylvanians. Sonny's younger brother Ron was with Ron Salsbury and JC power outlet.
"They came here and did a great gig at Davis High School," Sonny said.
Look for the cat
Although music was his first love, Sonny estimates that he has created hundreds of works of art since he started painting in 1982. "It's kind of a little hobby," he said. he declared with characteristic modesty. "I liked to draw and doodle a bit when I was a kid."
His first painting was for the cover of his LP "Song of Bethlehem", which was released in January 1983.
"In 1982-83, when Linda and I toured the country in a motorhome, we named Ashley – because we decorated it with Laura Ashley (props), they were about to release …" Song of Bethlehem "" said Sonny. "I did a painting for the cover of this LP. It was the start of my painting job.
Someone asked Sonny about his art style. It's a good question. Someone at an art show said his style was naïve, he said. He's okay with that. A definition of naïve is "skilled but untrained," he added.
It is a delightful experience to study Sonny's colorful, intricately detailed representations of Yakima's familiar monuments and homes. Sonny's nostalgic paintings somehow echo Grandmother Moses' style. They show places and gatherings that people fondly remember.
Paintings require careful consideration or you might be missing something. Sonny paints a cat or two in each piece of art. It's fun to look for them. His painting of the house at 208 S. 28th Ave. shows a cat in a tuxedo looking out from behind a chain-link fence.
In another example of the fun he has with his creations, Sonny has painted titles of songs by James Taylor throughout his artwork of Taylor performing at the Gorge Amphitheater in George.
Although he had paintings for sale in a studio in Pismo Beach, California, he no longer sells his works in galleries these days. He asks those interested in buying or ordering works of art to call him at 805-709-6605. A painting of a single house takes about 30 hours.
It's important for Sonny and Linda to keep doing what they love. He is happy that they can and hopes to accomplish all he can between the year of his birth and the year of his death.
"I want the scoreboard to count," he said.