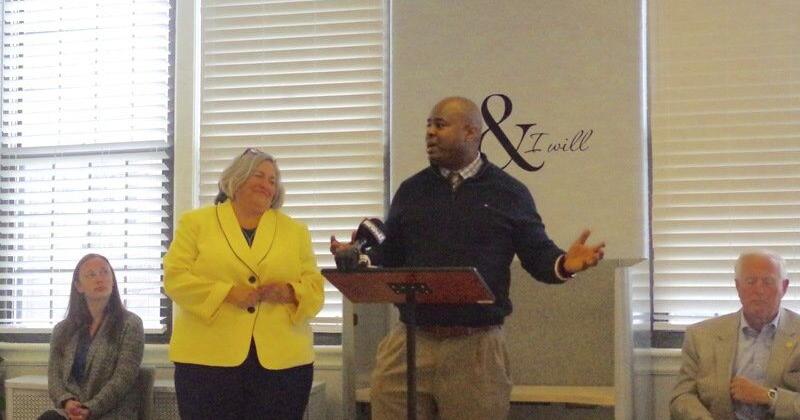 Pinnacle Services Opens New At-Risk Youth Services Center | Local News
Pinnacle Community Services has opened its yet-to-be-named drop-in center for homeless and at-risk youth ages 12 to 24 in the Lockport area. The center is located in the First Presbyterian Church at 21 Church Street, where a former day care center has been redeveloped for its new use.
As part of Pinnacle's "3D: Dare, Dream, Drive" program, youth at the center will receive coaching and support through mentoring; links and referrals to other programs, including housing; emergency pantry; laundry services; clothes closet; personal care and showers; transportation services; group support and skill building meetings; individual meetings and access to a computer.
Youngsters will also have a safe place to play video games, shoot hoops, play chess, and do arts and crafts.
"If they just need a place to drop by," Pinnacle Youth Services Director Teddy McDuffie said, they can just walk into somewhere warm and welcoming. Where there is no judgement.
McDuffie said the purpose of the center is to give young people a chance to "build their plan and allow them to direct their own lives".
"And yes," he said. "We understand that individuals may not get it right, may fall a little, but we want to be that system to catch them before they fall too far. And that's what we're here for. We are here to help young people in Lockport move forward and identify their own goals and path to success.
Dan Wilson, president of the Grigg Lewis Foundation, said he was shocked by the number of homeless young people in Lockport. Wilson said he had worked with the Salvation Army for years and thought he understood homelessness, but learned there was more to the story, especially when it came to teenagers.
"I thought I had an idea of ​​who the homeless were," Wilson said. "I read this request and saw 100 homeless people (in Lockport)! 'Oh, that can't be!' I said, 'That's not possible!' "
But it was. After a phone call with an assistant manager, Wilson realized that many factors contributed to homelessness, and it wasn't just about not having a roof over your head at night.
"She said there were over 100 students attending that school who were considered homeless," he said. "I had to change my definition of homelessness very quickly!"
According to a press release, Pinnacle remitted to the opening of the drop-in centre, "unstable family relationships and situations, economic problems, housing instability, physical or sexual abuse, lack of access to care, anxiety, addiction and/or or youth leaving a system of care program are all contributing factors to this crisis.
Laura Pennington Gawel, president of Pinnacle, said that although her nonprofit is in Lockport with its offices on Canal Street, it is now "really" settling in the eastern part of the county. Mental health services, physical illness diagnosis, family support, as well as services for homeless and runaway youth are ongoing.
"A lot has happened here to make it happen," said Pennington Gawel. "I want to thank Pastor (Jim) Hardy for partnering with us and seeing this space as something that could really help the young people in this community."
The drop-in is open Monday, Tuesday, Thursday from 10 a.m. to 6 p.m.