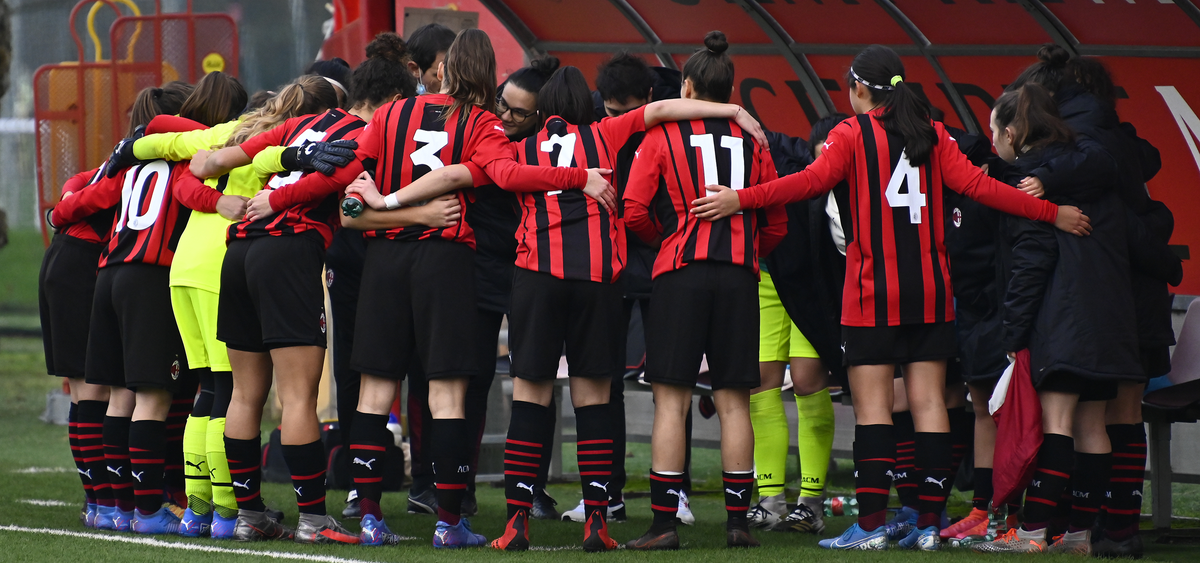 The results of the Rossonero Youth Sector from November 27-28, 2021
A weekend without many competitive matches, but many victories for the Rossoneri youth teams: the only defeats were Primavera's narrow defeat in Cagliari, as well as the draw in the Derby played on Sunday by the U11. It was also their second game in two days, after a fine victory on Saturday against Centro Schuster. For the rest of the teams, only the victories, both on Saturday and Sunday: young people (U14, U12, U10 and U9) to the women's teams led by the U17s and followed by the U13 and U11.
The experience of Women U12 team, which was in Rome for the final of the Danone Cup. The victories over Naples and Padua on Saturday were followed by a victory over Sassuolo for a fifth place: bravo girls!
THE WEEKEND RESULTS:
SATURDAY NOVEMBER 27
Less than 12 years : Matchday 7, Vigor Milano v AC Milan 1-7 (Borsa x2, Carbone x2, Seye x2, Argint)
UNDER 11: Matchday 7, AC Milan – Centro Schuster 7-0 (Ba x2, Jadid x2, Cremonesi, La Vecchia, Riva)
LESS THAN 9: Matchday 7, AC Milan v Pro Sesto 8-0 (Facchi x2, Geccherle x2, Gambarotto, Mazreku, Pinton, Sorrentino)
WOMEN UNDER 17: Matchday 9, AC Milan v Lecco 10-1 (20 'and 40' Cappa V; 23 ', 58', 82 'and 90' Sperduto; 24 'De Marco; 51' and 60 'Donolato; 70' Porta)
LESS THAN 10 : Matchday 7, Pavia vs AC Milan 0-2 (56 'and 58' Gagliardi)
SUNDAY, NOVEMBER 28
WOMEN UNDER 11: Matchday 7, AC Milan – Cologno 5-4 (Celentano x3, Gonzalez, Gulizia)
UNDER 14 YEARS OF AGE: Matchday 8, Seregno v AC Milan 0-5 (5 'Valenta, 17' Comotto, 15 'Pinessi, 25' st e 30 'st Borsani, 34' st Anghileri)
WOMEN UNDER 13: 7th day, Macalleri (boys) against AC Milan 0-4 (48 ', 59 and 63' Di Lernia; 56 'Elshamy)
PRIMAVERA: Matchday 9, Cagliari-AC Milan 2-1 (93 'Rossi)
UNDER 11: Matchday 5 (catching up), AC Milan – Inter 0-0
The PUMA AC Milan jerseys for the 2021/22 season are available: buy them now!